USA Ordination Licensing Commissioning - World Christianship



(559) 297-4271
Opportunity with Simple Christian Ordination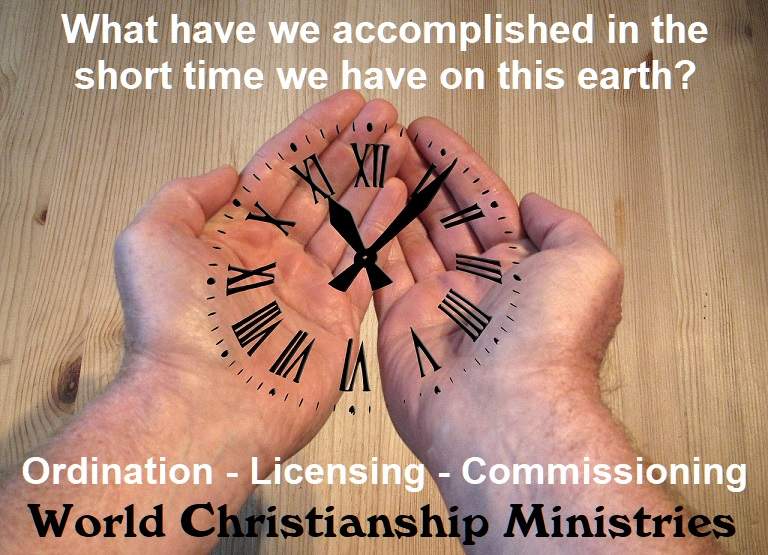 Ordination

is the key part of beginning your own independent ministry or church. Ordination from World Christianship Ministries gives you the legal authority to do all standard Christian services such as Marriage, Baptism and Funerals. What is meant by legal authority? Legal authority comes from the US Constitution which guarantees Freedom of Religion. The government is not involved in the Ordination of Clergy and has no authority to regulate it.
Licensing of Clergy

is similar to Ordination. This ministry uses the terms "Ordained and Licensed" on your Ordination Certificate because with WCM they have equal meaning. With other churches or ministries Licensing of Ministers can be all inclusive or somewhat restrictive. You could be licensed by another ministry to do just preaching and funeral services, or just weddings, or some other duty. That license usually is for a designated time period, and can be canceled or changed at the will of the church or ministry that issued it. World Christianship Ministries grants Ordination and Licensing for life as long as your work is Christian only and you do not do anything illegal with the credentials.
Commissioning of Ministers

(or Clergy) is an enhancement to your ordination. WCM commissions you to Preach the Holy Christian Gospel, begin an independent Christian Ministry or Church and Perform the Christian Rites of Marriage, in accordance with the teaching of the Holy Christian Bible. A formal Commission gives more credibility to your Christian work and to the authority of your Ordination Certificate.
American religious freedom is the best in the world, and we must be sure to never allow our Constitutional Freedoms to be tampered with.
Now the major part of being ordained is up to you. World Christianship Ministries gives you the tools (authority) to begin your Christian work. You will decide which direction to take your new ministry or church. WCM offers many Handbooks that are helpful in giving you guidance concerning the direction you wish to go. Also, if you have questions along the way you can feel free to call us with your questions or concerns. Notice that we provide a phone number at the top of most of our webpages. It is our pleasure to empower you with this new authority of Ordination.
Click the Blue Index box below and take a tour of our Photographic Site Map of important pages.









Home Page



Ordination USA Get Ordained Seniors and Veterans Christian American Marriage Ministry and Ordination

© World Christianship Ministries LLC