World Christianship Ministries Ordination as a Gift Page



(559) 297-4271

Give the gift of Ordination or Bible Study for Christmas, Birthdays, Special Occsions, Best Lifetime Gift, Becoming an Ordained Minister by World Christianship Ministries


For over 37 years, World Christianship Ministries has been the ministry of choice for sincere Christians wishing fast Christian Ordination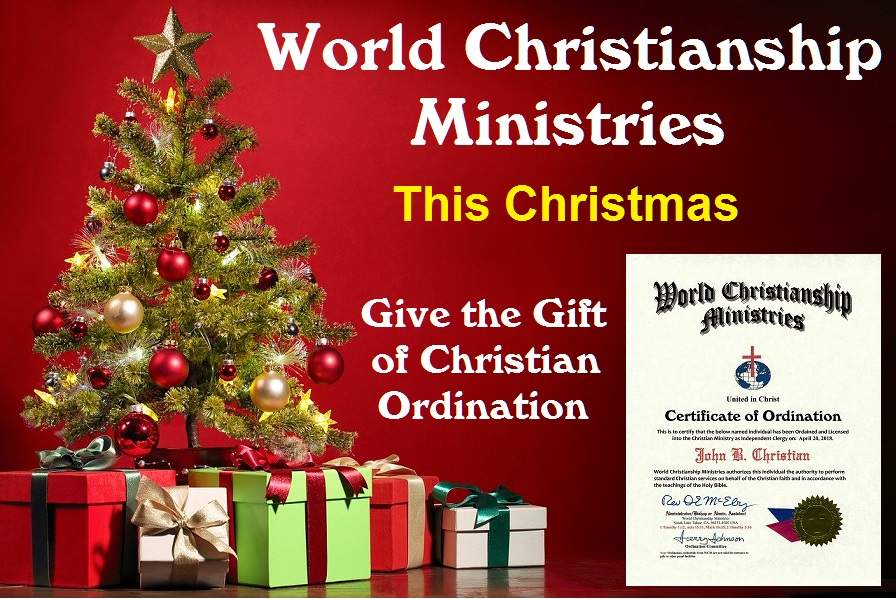 Ordination and Home Bible Studies
The Best Gifts for Christmas, Birthdays and Other Special Occasions

Fast Ordination for a Friend or Relative
This gift will last a lifetime
With the gift of Ordination your friend or relative will have complete authority to do all Christian services such as Marriages, Baptisms and such, and begin their own independent ministry or church anytime they wish. Ordination from World Christianship Ministries is valid for life.
1. You complete the Application in your friend or relatives name (To open the application Click one of the Blue Buttons Below). After opening one of the Blue Buttons you decide which package or items you wish to give as a gift to your Friend or Relative.
2. You Submit the application to us in 1 of 3 ways:
A.

Call in the application

to us at (559) 297-4271

This is the fastest and easiest way.
B.

E-Mail the application to us as a PDF attachment

.

Our E-Mail address is: wcm@wcm.org

(Be sure to save the application as a PDF file before attaching it to our E-Mail address). Give us a call to make sure it arrived OK and that we have all the information we need. When you E-Mail be sure to leave your own information as the sponsor, including your mailing address and phone number should we have any questions. We will mail the package to you and your address.
C.

FAX the application to us

at (559) 297-4223 sending the same items in "B" above.
If you E-Mail or Fax the application to us be sure to include any coupons for Free Bonus items that may apply to the package you choose for your friend or relative.
Open the Application Below: