If you are interested in simple ordination and beginning your own independent ministry or church please click the Home Page link and take our Guided Site Tour to learn what World Christianship Ministries can offer you. The RED Guided Site Tour bar appears near the top right hand side of the Home Page.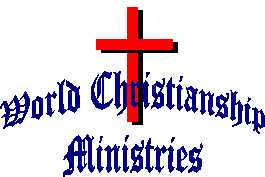 Music Page
Relax, turn your volume up and enjoy some of the best in Christian music from individuals, small groups and choirs that truly have Christ in their hearts, souls, and voices.
For people not familiar with YouTube videos, when you click the link below there might be a short advertisement in front of the video before it begins.

Click Musical Note
to Open the Video.

Because He Lives by Dave's Highway

Amazing Grace by a Little Girl (Rhema) who sings after loosing her mom to cancer
Rhema sings Over the Rainbow, powerful ending.

World Christianship Ministries
HELPING OTHER CHRISTIANS TO HAVE THEIR OWN CHURCH OR MINISTRY


If you enjoyed this page please let us know. E-Mail your comments or request for information to: wcm@wcm.org